Mrs. Mary "Mag" Woodard Sherrod, age 70 of Wilson, North Carolina transitioned from her labor to reward on Tuesday, May 17, 2022. A celebration of her life and legacy will be held at 1pm on Sunday, May 22, 2022 at L.N. Forbes Original Free Will Baptist Tabernacle, 1800 Bishop L.N. Forbes Street, Wilson, North Carolina. Interment will follow in Rest Haven Cemetery, Wilson, North Carolina.
Precious memories are forever cherished by her loving and devoted husband, Otis Sherrod of the home; two daughters, Vivian Hall of Wilson, NC, and Otressia Sherrod of Saratoga, NC; three sons, Carlos Ward (Tannesha) of Williamsburg, VA, Otis Sherrod, Jr. (Melissa) of Winston-Salem, NC and Montron Sherrod (Emmalee) of Greensboro, NC; four sisters, Teresa Woodard of Alexandria, VA, Linda Woodard of Walstonburg, NC, Doretha Mitchell (Beverly) of Alexandria, VA, and Annette Anderson of White Plains, NY; three brothers, Andrew Woodard, Jr. (Carol) of Stantonsburg, NC, Tim Woodard (Gloria) of Alexandria, VA, and David Lee Barnes of Queens, NY; three aunts, one uncle, fifteen grandchildren, eight great grandchildren, a host of nieces, nephews, other relatives and friends including the entire staff of Carrons Funeral Home.
A public viewing will be held from 2 to 4pm Saturday, May 21, 2022 at Carrons Funeral Home, 726 S. Tarboro Street, Wilson. The family will be receiving friends for an inspirational wake on Saturday from 6 to 8pm at St. Luke Free Will Baptist Church, 311 Church Street, Stantonsburg, North Carolina. They will receive friends at other times at her residence, 803 Viola Street, Wilson and will assemble there at 12 noon Sunday in preparation of the funeral procession. Please keep the Sherrod family in your thoughts and prayers. Condolences may be directed to www.carronsfuneralhome.com of faxed to 252.237.0120. They may also be sent by email to carronsfuneralhome@gmail.com.
Professional and caring service has been entrusted to Carrons Funeral Home, "The Willing Friend."
To view the obituary program please click on the picture below.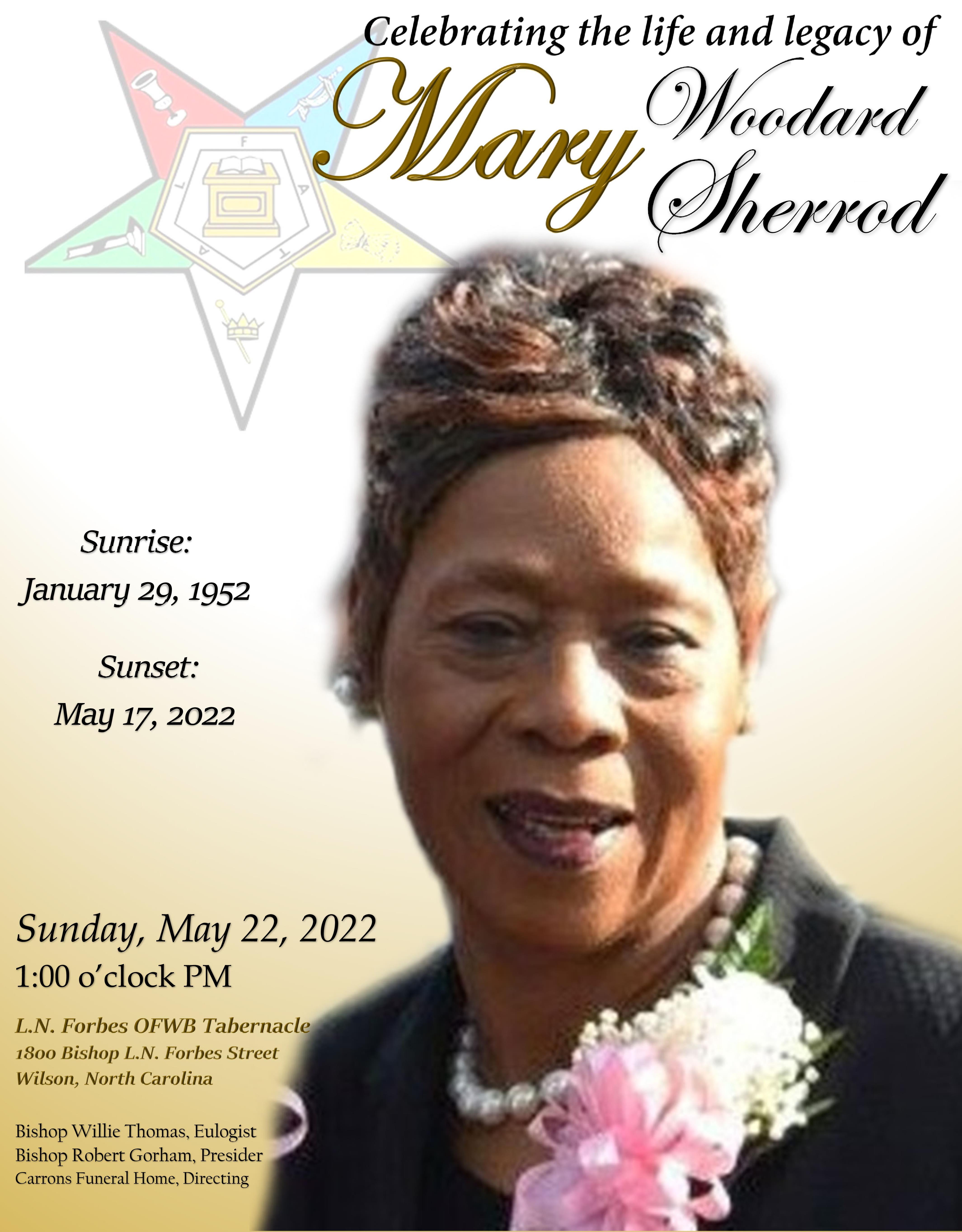 Mary "Mag" Sherrod's Memorial Folder
Carrons Funeral Home